What are we?
The Robinhood of Trading!
By analyzing data from hundreds of resources, we bring forth an AI based platform where knowledge is accessible to every person who wants to take control of their finances.
Investing doesn't have to be some secret that is available to only a few! This is why, with Tradytics, you get to leverage the same technology used by top decision-makers on Wall Street and deploy that knowledge to make yourself financially independent.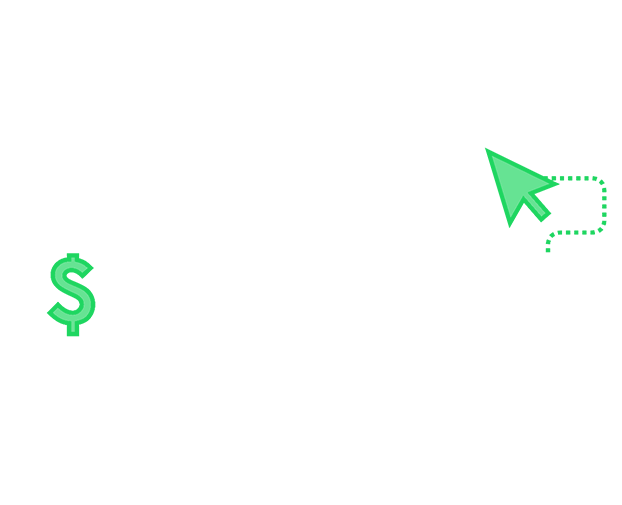 Why are we here?
Main problem of the
current market?
Dispersed Information

Finding important information in a single place is hard.

Expensive Costs

Hundreds of dollars in monthly fees, really?.

Subpar Tooling

There's no edge, most of the tooling is quite ordinary.
Our solution

We let you stay in charge of the entire operation. Whether you're a new investor or a seasoned wall street magnate, our easy to navigate tools make trading & investing a piece of cake!

We have built a platform that solves all these problems by having everything in a single place. Transparency is key. Therefore, our results are visible to everyone.

---
Why choose us?
Why choose Tradytics?
Why should all the big guns keep making profits? That's why we are creating a new world where you get to leverage the same knowledge and tools that the pros have been hiding away for years. Our AI tool helps you make the right decisions and offers you a gateway towards financial empowerment by bringing investing at your fingertips.
Maestro's Toolkit that Even Beginners Can Use
To make sure you have a good look at the entire spectrum before making your decision, we bring more than five different kinds of systems that you can use to gauge market sentiment towards individual stocks.
The Power of Options Flow at Your Fingertips
Imagine holding the power of anticipating stock moves before they happen. It's like having the superpower of looking into the future! This is exactly what we help you achieve. You get to capitalize and turn the tide by setting special filters for the most informative flow information.
AI-Driven Tools for In-Depth Analysis!
Our proprietary statistical engine allows you to perform an in-depth analysis of stocks to find the ones with most unusual flows. The tools give you a strong indication of a stock's direction and helps you make more informed decisions.
Stock Prophet to Help You Get the Small Wins
The Stock Prophet is another AI model that is all about the minor details. If you like to keep an eye on the short-term movements, then this is for you! This model helps you look at and predict the movement of more than 5000 stocks every day..

Trade Sent to Help You Keep an Eye on Everything
Well, let's face it! You need to keep an eye out for events and news that come with huge potential. That's why we bring you the trade sent tool that analyzes millions of news articles every day and only shows you the most important ones. How's that for ease of use?

Oh, We have got Crypto as well
Our tooling doesn't end here. We have a bunch of tools to help you keep track of your favorite cryptocurrencies and predict their short term moves.
How much do we charge?
Pricing
Tradytics premium unlocks all our premium tools to provide you an extra edge in the market.
Premium User
For individuals
---
$49

/month
---
$449

/year
---
AI based Hedging Suggestions
Build your own AI Portfolios
---
Start your trial
Cancel anytime. Subscription is automatically renewed every month.
Discord Bots
For discord owners only
---
$199

/month
---
$1499

/year
---
Tradytics Proprietary Scanners
Financial Revenue Estimates
Hottest Social Media Stocks
---
Start your trial
Cancel anytime. Subscription is automatically renewed every month.
Learn More A Community that Stands Together
You must be thinking that Tradytics is awesome? Wait until to get a chance to become a part of our vibrant community. From daily tips and tricks to success stories, and support, you will find more than 3300 like-minded investors who are ready to unlock themselves while taking others to the top with them.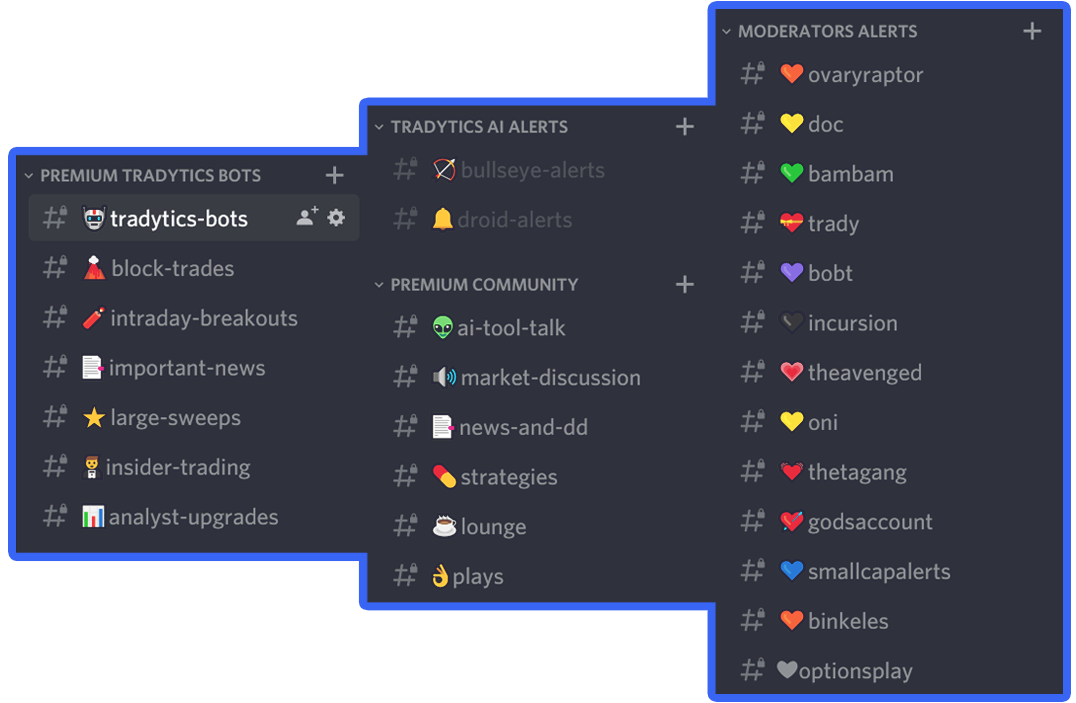 I joined premium on August 6. I mainly began using the tools seriously with a strategy about 10 days ago and I am up $15k from $3k. It's honestly crazy how accurate they can be provided you have an entry/exit strategy of course.
godscocunut
Premium Member
I started with $200 and after about 2 weeks (maybe 3?) I'm at $830. Free alerts kick ass, so you'll be making money in no time!
Everyone that I introduced to the Tradytics AI already made more than the subscription in less than 72hrs.
Frequently
asked questions
Our product involves extensive use of AI and Machine Learning by looking at vaste amounts of historical data and training algorithms to identify patterns that can result in directional moves in stocks and options contracts. Our tools learn from the past, continuously identify their weakness, and adapt accordingly by finetuning. Moreover, we also use AI to label thousands of news articles every day for different aspects.
Our competitor products mostly only focus on a single theme such as options flow, which is just one of many tools in our platform. We have also added a number of AI tools on top of live options flow. When using the above mentioned websites, a trader usually has to identify patterns him/herself. However, our algorithms identify these for you and alert you directly for option contracts to trade.
It differs with every tool. Most of our tools with the exception of options droid and bullseye provide weekly alerts i.e the price is expected to move in the predicted direction within a week. If you are an investor and you want longer term alerts, our AI portfolios are built for you. Every portfolio is developed for 1-3 months of investing.
We want to be transparent with our results. Therefore, our Analytics page shows you the rolling results and accuracy of all of our tools.
When you get your free 3 day trial, you are free to cancel it within three days to prevent any charges. We only start charging you after your trial is over.
We are using two sources for our data needs. For options data, we use Xignite to obtain live options flow. For stocks and all other kinds of data, we are using IEXCloud.
Do you have any questions?
Please contact us directly by mail or from our contact form. You can also visit our support page which might help solve your problem.
[email protected]
---